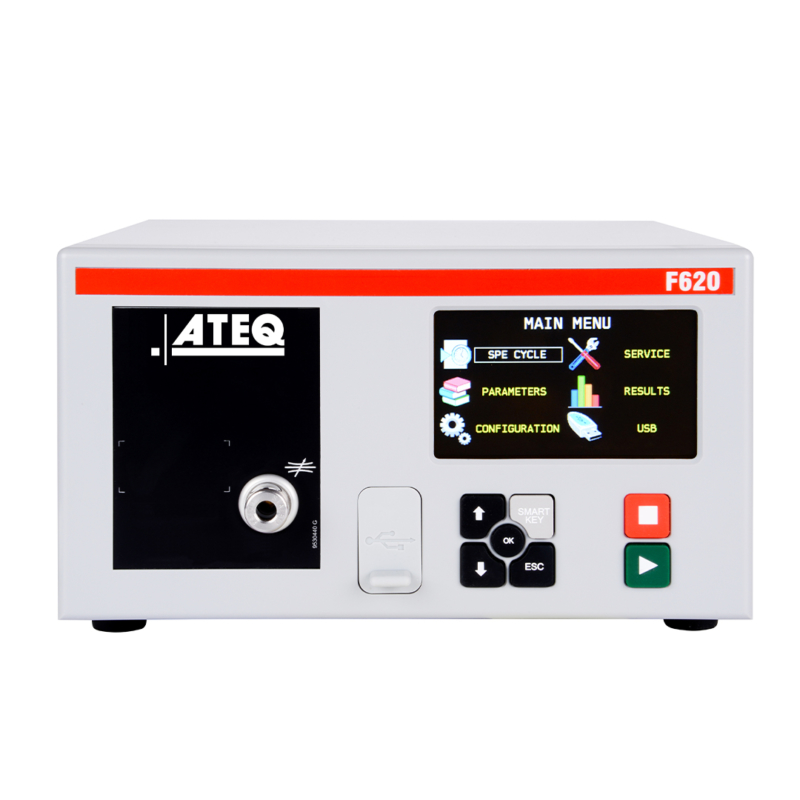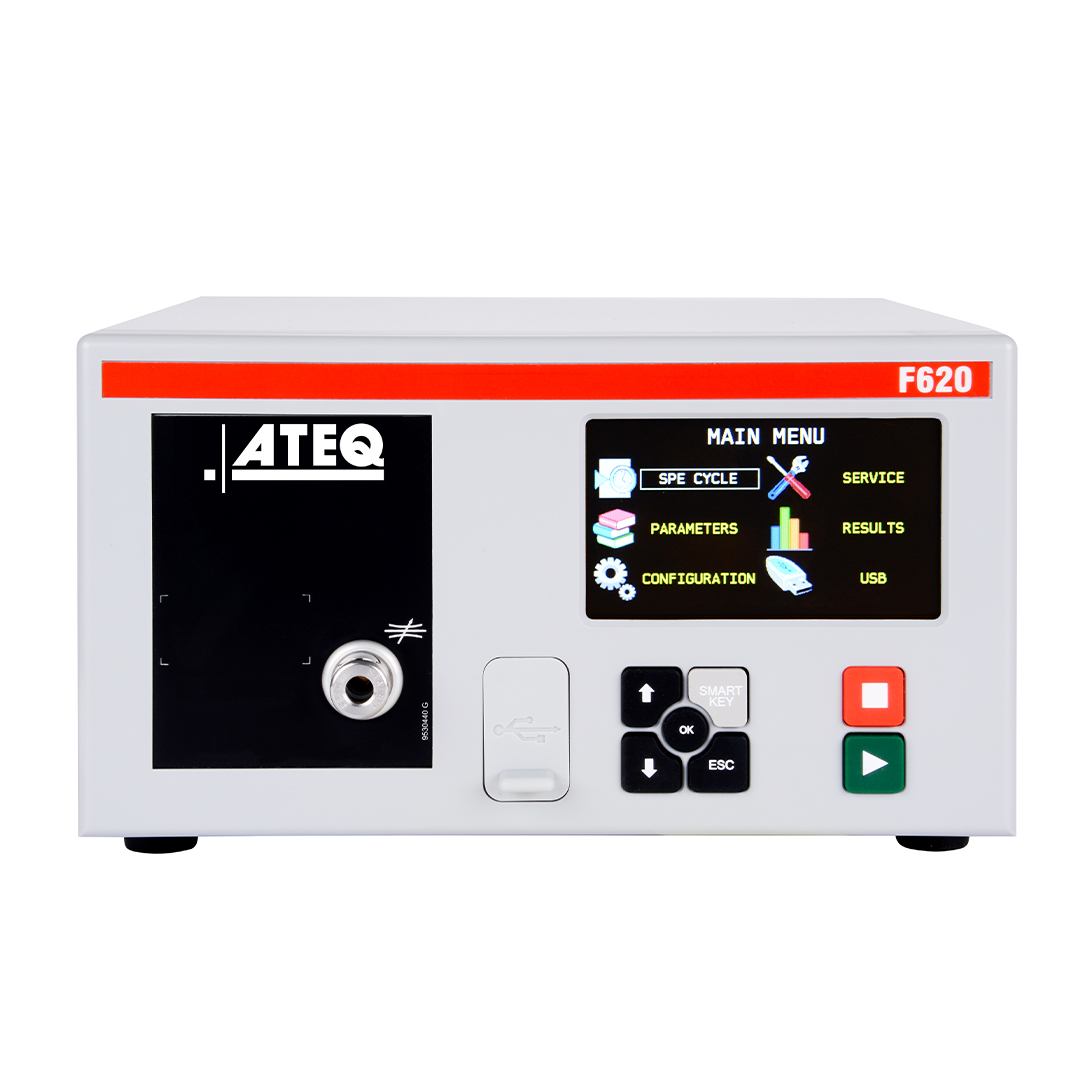 F620
– INSTRUMENTO DE PRUEBA DE FUGAS PARA CONTROL DE CALIDAD INDUSTRIAL

Después de 46 años, y 250 000 probadores instalados a más de 5000 clientes en todo el mundo, ATEQ presenta su revolucionario probador de fugas: F620

Nuevo módulo electrónico, nuevo módulo de medición, nueva interfaz, nuevos accesorios… Todo realizado para mejorar su control de la calidad.

Incluye en su interior la última tecnología de detección de fugas que le garantizarán el ciclo de detección de fugas más rápido y preciso del mercado.

Automotrices, electrodomésticos, médicas, aeronáuticas, defensa, componentes eléctricos y fluidos, embalaje de alimentos y cosméticos…
F620 :

CARACTERÍSTICAS PRINCIPALES
• Medición de fugas por disminución de la presión diferencial
• Gran rango de medición de fugas (∆P) F.S.: 50 Pa, 500 Pa o 5000 Pa
• Regulador mecánico o electrónico de vacío hasta 20 bar
• 128 programas
• Configuración en línea (a través de USB)
• 2 idiomas (inglés + otro)
• Calibración manual en el panel frontal con fuga calibrada
• Almacenamiento de datos en memoria interna o memoria USB

• ∆P (Pa, 1/10 Pa)
• ∆P/t (Pa/s, 1/10 Pa/s)
• Unidades de flujo (sccm, mm3/s, cm3/s, cm3/min, cm3/h…)
• Prueba de paso
• Prueba de rotura
• Prueba de componentes sellados
• Otras pruebas, dependiendo de sus aplicaciones

FORMATO DE COMUNICACIÓN FLEXIBLE :
• RS232: impresora, modbus RTU
• USB esclavo: supervisión PC (WinAteq 300, Sesame)
• USB maestro: memoria USB para trasferencia (parámetros, resultados, …)
• Opción Fieldbus: Profibus, DeviceNet, Profinet, Ethernet/IP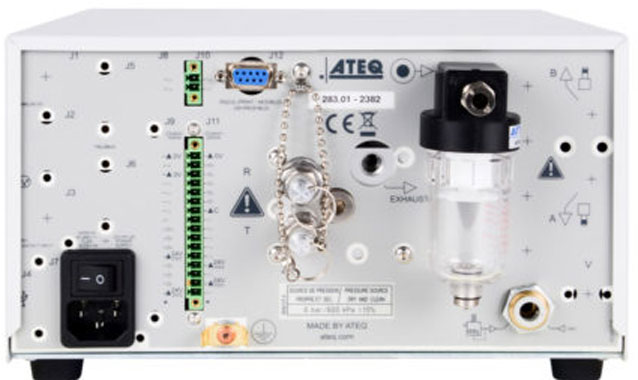 CHARACTERISTICAS DE MEDICIÓN :

F620 :

ESPECIFICACIONES TÉCNICAS
PRESENTACIÓN

Peso: 7 Kg
Dimensiones : (anchura x altura x profundidad) 250 x 150 x 360 mm


ELECTRICAL SUPPLY

24VDC/2A o 100-240VAC/50W

TEMPERATURA

Funcionamiento: + 5° C a + 45° C
Almacenamiento : 0° C a + 60° C
INTERFAZ


Pantalla a color con controles simples e intuitivos para el operario a través de un menú


SMART KEY : tecla programable con las funciones del usuario

SUMINISTRO DE AIRE

Comando 4/6 bar

Presión 1 o 2 bar > presión de prueba

Aire limpio y seco


Norma de calidad del aire que se debe aplicar (ISO 8573-1)
F620 :

ELEMENTOS OPCIONALES
• 9 entradas / 5 salidas locales compatibles con 5 instrumentos de la serie
• 6 entradas / 6 salidas de 24 V programables para automatización externa
• Regulador electrónico
• Presión dual
• Comprobación automática de la calibración
• 2 salidas neumáticas para el control de los conectores de sellado
• Tarjeta de memoria para archivar resultados (1 millón)
Información detallada sobre F620 incluyendo caracteristicas, especificaciones técnicas, etc.
By far the most popular technology, differential pressure decay uses a reference volume to test your part. This helps compensate for any ambient pressure or temperature variations as they occur on both parts simultaneously.
Only a leak on the test part will result in a movement of our transducer's membrane.
The second advantage of this method is that the accuracy does not drop with the test pressure as the transducer is measuring pressure differences between the two circuits, as opposed to the traditional pressure decay technology that measures pressure drops against the atmosphere.
Direct measurement principle
The part under test 3 and the reference part 5 are filled to an identical pressure. A differential sensor 4 measures the pressure variation between the part under test  3 and the reference part 5. In some applications, the reference part can be replaced by a cap.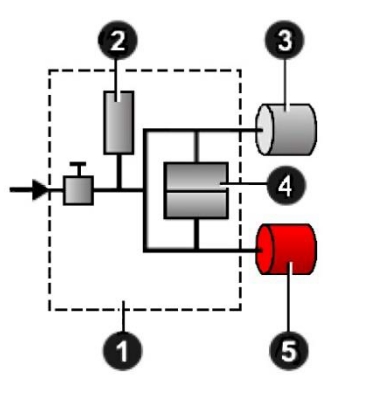 Desensitized test
This  mode  is  used  for  the  measurement  of  large  leaks,  when  the  reject  level  required  is above the full scale of the differential sensor.
The  test  pressure  is  applied  to  the  input  of  the  part  under  test  3.  The  measurement  is performed by the pressure sensor 2.
Other type of tests are available in option